Dore Valley

The North Fork of the Dore is a challenging technical class IV-V creek that will keep you busy all the way to the end. We rolled up the Dore Valley (about 20 km off of Hwy. 16 and 25 km from McBride B.C.) to the confluence of the South and North Fork runs in the evening. Camping is good at the confluence but watch out for the cows in the morning if you don't hear them rolling through in the night. Next morning we set off another 13 km or so up the North Fork road until once again there is a bridge crossing the river. If you are charging this one beware of the Gnasher, a lengthy technical line that sends you into a powerful maelstrom of white. Jordie and I looked at a possible entry above the river right pour over and then decided to go for it.........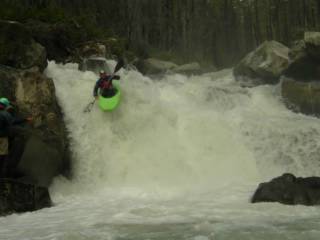 Jordie M. boofin' the Gnasher river right

The rest of the run maintains a constant gradient until the final 3 km which is even steeper. Overall the North Fork of the Dore is worth checking out on one of those hot summer days if you are in the area. 2hrs from Jasper AB, 3hrs from Clearwater B.C.
For more logistical information on the Dore, check out Spencer Cox's
Kayakwest
website.
Vis
N. Dore River (V)
i et større kart