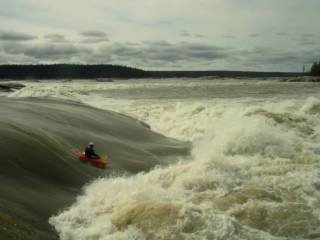 Molly's Nipple rapid at the Slave River.

August 18th - 24th 2004, Michelle and I drove the ultra long (14 + 3 hrs) stretch of road between our home in Calgary and Ft Smith. This was my second trip to the Slave and water levels were about the same as in early August 2002. However on this later trip the days were becoming shorter the nights were a lot more chilly, which also meant no bugs! Although the Slave comes in as early as June, the bugs are beyond the comprehension of most people who haven't experienced life in the North. Beware in June and July!
We left Calgary and pit stopped at our parents overnight in Edmonton. We then left from Edmonton at 4am the next morning and rallied direct, stopping for a brief reunion at Alexandra Falls on the AB/NWT border with Almut Sohn and her two other German paddling friends. Germans were probably the most represented paddlers this year at the Slave. Despite it's reputation of having some of the most concentrated playspots anywhere, the Slave remained mostly free of camera toting big wave dwellers. Our other German friends included filmmaker Olaf Obsommer and Jens Klatt. Back after his source-to-sea Stikine River descent in 2002/03, Olaf is now documenting a broader range of western Canadian river and lake systems in his forthcoming film.
We were fortunate to also meet up with Jesse Stone, John Fullbright and Yellowbird from New Mexico. A group of friendly Americans who always deserve a bout of regard for the monster road trip one needs to put together for coming to this place from the South.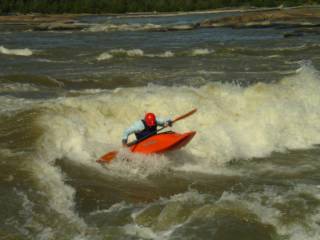 Outrageous

Anyways here is a shot of me on Roller Coaster at 3900 cms on the Ft. Fitzgerald gauge. The Slave is a majestical place that will scare you and inspire you. For detailed information on the Slave's rapids, check out Keith Morrison's amazing website with interactive satellite photos. Keith is the best guide you can ever have on the mighty Slave.
www.slavekayaklodge.com
RollerCoaster Air

Flows: 3000 - 4000+ cms Flow Gauge:
Slave River Gauge at Ft. Fitzgerald.